| | |
| --- | --- |
| Posted on April 25, 2014 at 8:15 PM | |
The SystemSalon Pure Air Chemical Fume Extraction  for Hair (Model SPA-H) is appropriate for stylists who prefer the 16″ diameter hood to be positioned above the client's head. It is designed to adsorb and remove formaldehyde, glutaraldehyde, or other vapors generated by the various Keratin Smoothing Treatments.
This Deluxe System is designed for heavy fume removal applications. It includes a patented air filtration media specifically designed to oxidize gaseous pollutants, including, but not limited to, hydrogen sulfide, sulfur dioxide, formaldehyde, glutaraldehyde, ethylene, and mercaptans. Also included is our extended reach self-supporting arm for true overhead positioning, along with an expanded diameter hood.
Both Salon Pure Air Chemical Fume Extraction Systems for Hair offer a specially designed Adsorption Module with a V-Bank configuration, providing high efficiency contaminant removal. This superior design prevents bypass, and provides an even bed thickness. It is designed for use at a maximum air velocity of 250 fpm. Servicing/refilling this module is made simple with a one-piece lid.
In addition, the Salon Pure Air Model SPA-H lowers exposure to a variety of other harmful chemicals generated by additional processes such as coloring, highlighting and permanent treatments.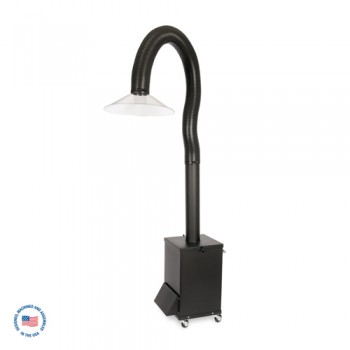 Categories: keratin treatments, green planet, organic living